Medium ini dipakai untuk menumbuhkan jamur tapi kuman tertentu kadang juga bisa tumbuh pada medium ini sehingga perlu ditambahkan antibiotik pada medium ini.
Biasanya antibiotik yang digunakan adalah chloramphenicol.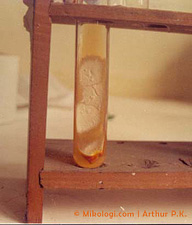 Pertumbuhan jamur Dermatophyte pada medium Sabouraud dengan koloni berwarna putih seperti beludru.

This medium is used to grow fungi but sometimes certain bacteria can also grow on this medium so it is necessary to add antibiotics to the medium.
Usual antibiotic used is chloramphenicol.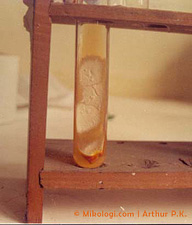 Dermatophyte fungal growth on Sabouraud medium showing velvety white colonies.